I finally got around to loading some of the pictures from our trip to South Carolina. The kids hardly sat still, which of unfortunately means very few photos...

I heard Mimi yelling about something, so I went outside to find this...
guess they were wondering what the fuss was about too.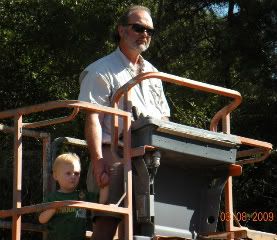 Cole looked a little scared up there, but he loved it.
I thought he was going to fight us,
by not getting out -
but he did, willingly.
Kyla & Cole were playing around on
the four-wheeler...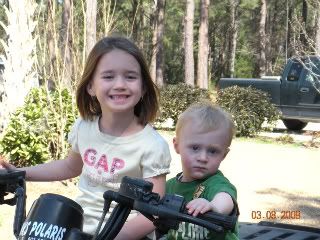 Here's the princess in all her bald glory.
Laughing at her silly mama
on the way home.
It was a great trip... we had a lot of fun. Of course it always works out that as soon as we get settled into our routine, that we have to leave.
We go back the last week of May for Mary's graduation... I can't wait!